Camden Comedy Club presents:
Chatback Comedy's New Year's Eve Extravaganza!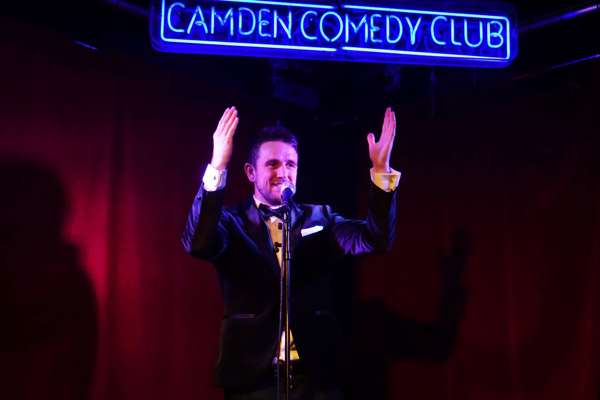 Our annual sell-out New Year's Eve show is back with another excellent line-up of top notch comedians! Come and say goodbye to 2017 in style! Log onto our website to book and to see what we have planned!
Ticket also gets you you entrance to Camden Head's NYE party.
Early booking highly recommended. Please note that the show will start at 8:30pm, doors will be open and complimentary prosecco served from 8pm.
LINE UP: MC: ESHAAN AKBAR Winner: Piccadilly Comedy Club's Comedian of the Year 2016 ★★★★★ Edinburgh Festivals Magazine ★★★★ Fest 'Laugh out loud' One4Review 'an accomplished debut from a classy comic' The Scotsman 'an informed comic perspective and a near-universal appeal' Fest "So slick, I could have been watching a Live at the Apollo set' Bruce Dessau 'There is no doubt that Akbar will soon go places: his comedy is reflective, relevant, political, observational, relatable and, above all, it is laugh out loud hilarious' EdFest Magazine 'GREAT back story, check. Surprisingly nifty Bollywood dance moves, check. Engaging personality, check' The Herald
TEZ ILYAS (Star of BBC Radio 4's TEZ Talks and BBC Two's Live from the BBC.) ★★★★★ The Mirror ★★★★★ Daily Record ★★★★★ Arts Award Voice ★★★★★ Ed Fest Magazine ★★★★ The Times ★★★★ The Telegraph ★★★★ Evening Standard ★★★★ The Guardian ★★★★ Sunday Times ★★★★ One4Review ★★★★ The Skinny ★★★★ Broadway Baby ★★★★ Chortle ★★★★ The List ★★★★ Herald ★★★★ Fringe Guru 'His zingy upbeat style...enlivens every story' Chortle 'Warmth, wit and plenty of laughs' The Guardian 'never less than good fun...keeps us ticklishly on our toes' The Guardian 'articulate, passionate, thoughtful and also crowdpleasingly teasing' Evening Standard
JAMES LOVERIDGE ★★★★★ Broadway Baby ★★★★★ The Reviews Hub ★★★★ The Skinny ★★★★ Arts Award Voice ★★★★ EdFringe Review ★★★★ Fringe Biscuit 'self-deprecating and sharp' EdFringe Review 'Loveridge's timing is exceptional; he knows exactly where in a joke to place the punchline' Broadway Baby 'He had the rest of us in stitches throughout a polished yet ever-evolving act, with asides and quips just as strong his actual jokes' The Skinny 'Loveridge brought out some of the shock and awe – all with a smile on his face, too' The Reviews Hub
ANDREA HUBERT (WINNER OF THE BEST DEBUT SHOW AT WHAT'S ON LONDON COMEDY AWARDS 2016) ★★★★★ Broadway Baby ★★★★ The Skinny ★★★★ Whats On London 'lacerating wit' The Scotsman 'gifted storyteller' Fringe Guru 'Smart, engaging and charismatic, Hubert is a hit' LondonisFunny 'Deeply cynical, sarcastic and wonderfully honest' Broadway Baby 'her slick, fluid set is rich with inventive, sarcastic gags all hung around an intriguing personality' Chortle
*& more tbc! *