Camden Comedy Club presents:
CHRISTOPHER BLISS' LITERARY SALON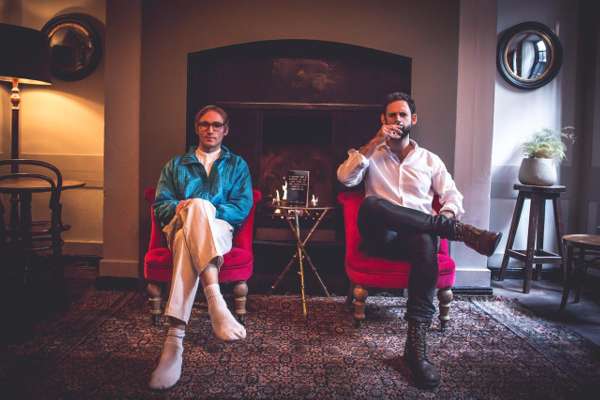 Charming misfit Christopher Bliss (★★★★ 'One of this year's hidden treasures … consistently, pant-wettingly funny.' Fest) writes 2-3 terrible novels a day.
Turtleneck-clad literature clad Luke Courtier (★★★★★ 'hilarious' The Good Review) thinks he's found hidden levels to Christopher's work.
And so Christopher Bliss' Literary Salon was born co-hosted by Luke and Christopher. The pair of them, operating on opposite ends of the intellectual spectrum, are joined each month by a published novelist. As Christopher metes out totally unwarranted feedback on their work and improves classic literature, Courtier will be on hand with excellent footnotes and a stonking claret. As a bonus Chrisotpher will be reading from his new novels and and doling out extra advice to anyone who wants it. Probably all of you?
REVIEWS FOR ROB CARTER IS CHRISTOPHER BLISS: ★★★★★ Fringe Guru ★★★★ Fest ★★★★ Fringe Biscuit HIGHLY RECOMMENDED SHOW - British Comedy Guide 'Simply hilarious and utterly captivating.' Fringe Biscuit 'One of the best character shows we've seen for a long time' British Comedy Guide 'One of this year's hidden treasures … consistently, pant-wettingly funny.' Fest 'Rob Carter is Christopher Bliss is a fabulous piece of character storytelling. This is a fresh, original show, and one of the gems of this year's Fringe.' Fringe Guru
CHAIRED BY LUKE COURTIER FINALIST: Musical Comedy Awards 2015 FINALIST: Amused Moose Laugh Off 2015 ★★★★★ The Good Review ★★★★ Broadway Baby 'fast-paced and laden with amusing anecdotes' The List 'A gifted act...his lyrical abilities are a sheer delight' The Skinny 'A breath of fresh air' Broadway Baby 'Put simply; he makes musical comedy sexy...And then there's Courtier's stupendous voice, humbly kept up his sleeve for 95% of the show. But the moments he opts to let rip are meticulously chosen to enhance what is, simply put, a hilarious hour of comedy.' The Good Review