Camden Comedy Club presents:
SAMEENA ZEHRA: EXISTERHOOD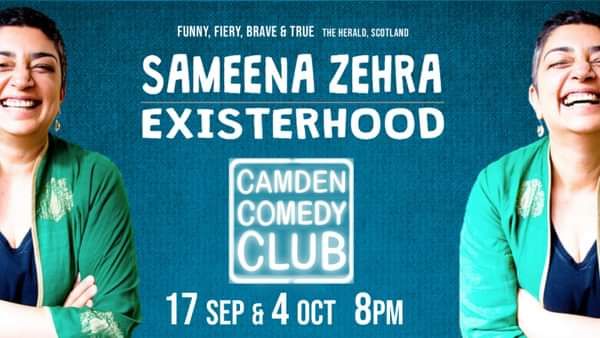 We're all some kind of arsebiscuit. The trick is how to be more biscuit, less arse.
In her first new solo show in 2 years, Sameena is back doing what she does best; a goulash of storytelling and political commentary, peppered with absurdity, dark humour and personal context.
Tickets £5 in advance or PayWhatYouWant
Winner, Outstanding Performer, Tea with Terrorists, NZ Fringe 2017 Winner, Outstanding Ensemble, Fiery Tongues, NZ Fringe 2017 Nominee, Best In Fringe, Homicidal Pacifist, NZ Fringe 2016
Sameena has been performing comedy since 2011. She is also blues singer/songwriter, writer, director and accomplished actor who has worked at the National Theatre, and toured internationally with the Royal Shakespeare Company. She has also appeared on radio and TV, both as a performer and an activist, most notably as a panel member on ABC Australia's panel show Q&A, discussing marriage equality.
Sameena is a consummate writer and performer and has a great connection with her audience. She is a storyteller, political satirist, intersectional feminist and humanist with a unique take on the world, equally at home exploring the individual experiences of daily life and the larger issues of the world we live in. She has performed her solo shows all over the world, including Edinburgh Fringe, Melbourne International Comedy Festival, Brighton Fringe, Adelaide Fringe and New Zealand Fringe.
Reviews for previous shows include...
'Funny, fiery, brave and true.' The Herald, Scotland
'... combines warmth with political passion.' ★★★★ Scotsgay
'A master storyteller…' ★★★★ Three Weeks, Edinburgh 'mingling of the commonplace with the astonishing, and frequently violent' The Independent
'...an intimate atmosphere with all the warmth, energy and enthusiasm of a full house at the Apollo...Fluency, intensity and vivacity…'★★★★ The Age,Melbourne
'ballsy, intelligent and searing…the best comedy show I have seen all Fringe' Radio Adelaide
'the wittiest, most intelligent, comedy I've seen in the whole Wellington Fringe Festival 2016… tackles the hard topics with ease, wit and charm…comedy that made you laugh and made you think.' Art Murmur